From SolidWorks to MasterCam, P. Tool & Die has the cutting-edge design technology necessary to meet your requirements. The products can then thoroughly be inspected to ensure that the tolerances needed have been met.
Check out the list of our cutting-edge design and quality control equipment below for a glimpse at all of the digital tools we use to dream up your component designs, carefully monitor every step of the manufacturing process and thoroughly inspect your finished parts to ensure they're built perfectly to spec.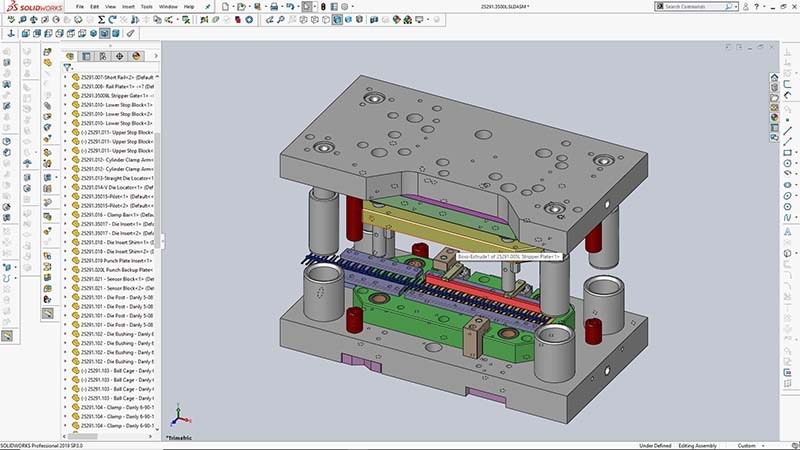 DESIGN EQUIPMENT
(7) Master-Cam Stations
(5) Solid Works Stations
(1) AutoCAD Station
(1) HP Design Jet Plotter
CAD DATA TRANSFER VIA:
Solid Works: SLDPRT, SLDASM, SLDDRW
MasterCam: MCAM, MCX, MC
AutoCAD: DWG, DXF
Other Formats: X_T, IGES, STEP, PRT, ASM, IPT, IAM, PAR
INSPECTION EQUIPMENT
(1) Sprint MVP 200-300 Vision System 2018
(1) Renishaw Ball Bar Tester 2017
(1) Browne & Sharpe XCEL CMM (40″ x 25″ x 25″)
(1) Mitutoyo Optical Comparator 14″ (10x, 20x, and 50x) 2008
(1) Covel Optical Comparator 14″
(7) 12″ Cadillac Height Gauges
(1) Wilson Hardness Tester
(1) Indi-Square
(4) Large Surface Plates (60″ x 36″)
(1) Micrometer (0″ – 12″)
(2) Pin Gauges (.010″ – 1.000″)
(6) Gauge Block Sets
(1) Laser Engraver SIC Marking L-Box 2016
(15) Small Surface Plates (18″ x 12″)
Alternatively, you can check out a full list of P. Tool & Die's manufacturing equipment and machinery below.